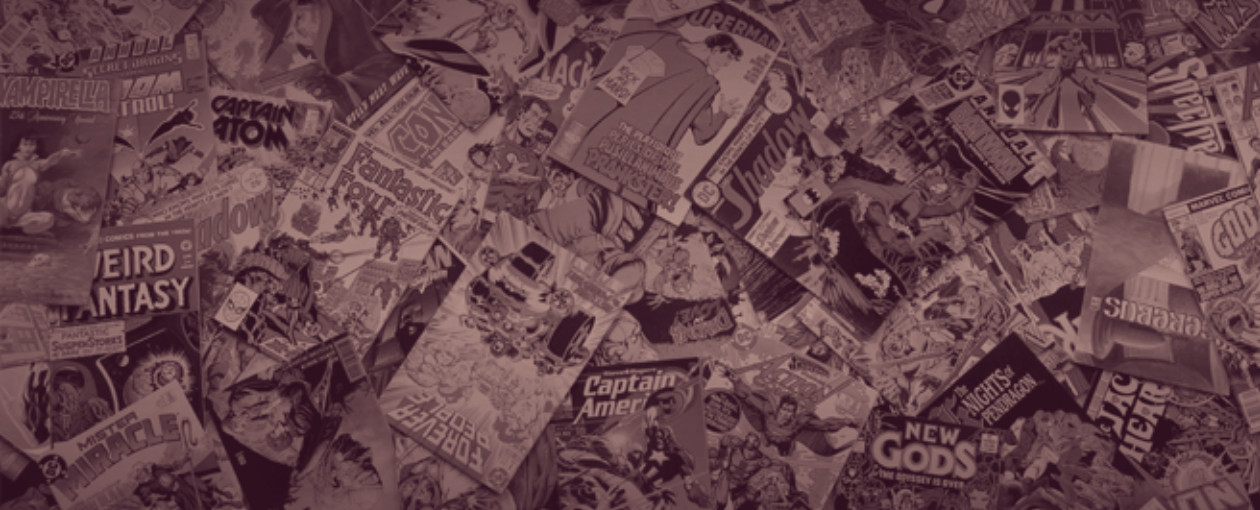 This poll will be concluded on December 1st and I will try to draw as many pieces as I can starting from the 1st place holder going down until December 31st !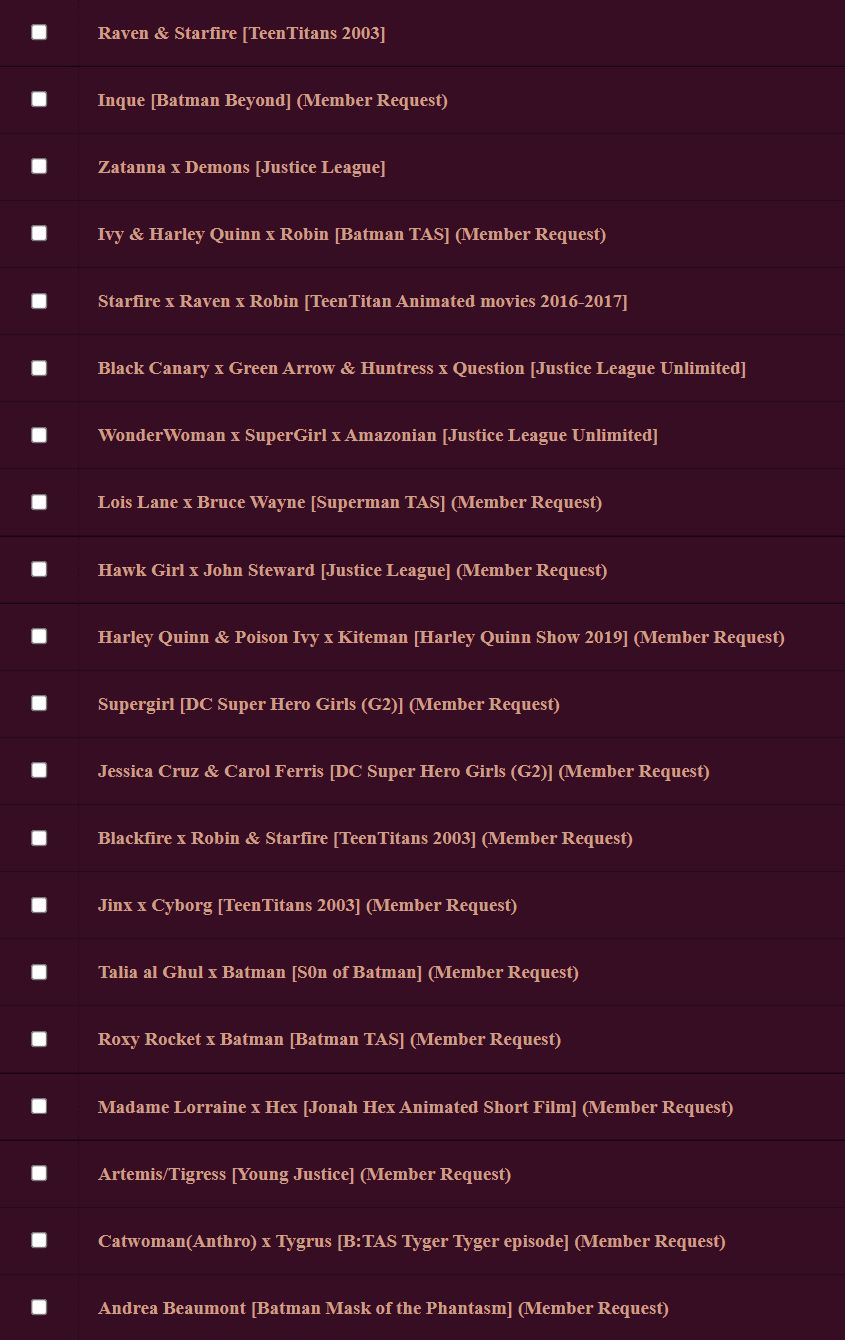 What would you be voting for?
Raven & Starfire [TeenTitans 2003] I essentially wanna do my take on this drawing by RavenRavenRaven, but in my own style, from a more dynamic angle and with more contrasting expressions between the two.
Inque [Batman Beyond] (Member Request) A close-up pinup of Inque laying on a couch based from this scene. Her boobs will be clearly shaped and visible. I'll also make a version where she is in her black featureless form with her boobs still clearly defined.
Zatanna x Demons [Justice League] Part 2 of my Halloween Zatanna drawing. In this one she's pulled down to a shadowy realm and is laying sideways as she's being spit-roasted by demons.
Ivy & Harley Quinn x Robin [Batman TAS] (Member Request) A 2 panel drawing. In both panels a young Robin is tied up in Ivy's vines. The 1st is a closeup of Ivy making out with Robin and squeezing her big boobs against his chest. While the 2nd panel is of Harley giving him an enthusiastic boobjob.
Starfire x Raven x Robin [TeenTitan Animated movies 2016-2017] Part 2 of my last Starfire x Raven drawing – a POV drawing from Dick's perspective. Raven rides on top of him as Starfire comforts and makes out with her. Essentially, the true reboot of my "Fun" piece I did back in 2017.
Black Canary x Green Arrow & Huntress x Question [Justice League Unlimited] It's a foursome scene where both women are getting railed on an elevated surface.
WonderWoman x SuperGirl x Amazonian [Justice League Unlimited] A lesbian scene where Supergirl is going through a some sort of an "amazonian initiation" where she is being caressed, undressed and rubbed by other busty nude Amazonians as WonderWomen is trying to assure her to not be worried while also undressing.
Lois Lane x Bruce Wayne [Superman TAS] (Member Request) A POV shot of someone walking in on Lois Lane as she is caught off guard in a middle of a blowjob session as she tries to button her jacket back. It's going to be implied that she was blowing Bruce Wayne.
Hawk Girl x John Steward [Justice League] (Member Request) A scene of both of them out of their superhero uniforms just casually watching TV on a couch as a couple and Hawkgirl is laying across and sucking off John while wearing nothing but panties.
Harley Quinn & Poison Ivy x Kiteman [Harley Quinn Show 2019] (Member Request) POV scene from Kiteman's perspective as Harley is reverse cowgirl riding him with her big ass, while both girls are making out and looking back at the viewer.
Supergirl [DC Super Hero Girls (G2)] (Member Request) A POV drawing of her laying with her shirt rolled up being covered in cum and her looking at the viewer in mild annoyance from the mess.
Jessica Cruz & Carol Ferris [DC Super Hero Girls (G2)] (Member Request) A pinup of both girls where both of them are posing in very revealing lingerie matching their lantern core colors. Both of them displaying contrasting attitudes – Jessica feeling really uncomfortable while Carol enjoying the attention.
Blackfire x Robin & Starfire [TeenTitans 2003] (Member Request) Scene is primarily of Blackfire passionately riding Robin on the round TitanTower couch. Meanwhile Starfire sits on the other end of the couch in the background staring at them while conflicted from having her boyfriend used and looking for approval from her sis.
Jinx x Cyborg [TeenTitans 2003] (Member Request) Scene of Jinx getting fucked silly by Cyborg as she and her naked chest is pressed against a TitanTower glass window for everyone outside to see.
Talia al Ghul x Batman [S0n of Batman] (Member Request) A pinupy drawing based on the scene from the movie where they were in a private bar. The drawing would be of them getting ready to bang and Batman is fondling Talia's big boobs from behind is they slip out of her dress.
Roxy Rocket x Batman [Batman TAS] (Member Request) A piece based on this scene. Roxy will be humping Bats while rolling up her shirt exposing her boobs and looking back at her "final stunt" with intense ecstasy in her expression.
Madame Lorraine x Hex [Jonah Hex Animated Short Film] (Member Request) Basing off of this scene. My drawing would be the aftermath, where Hex revenge fucks Lorraine silly
Artemis/Tigress [Young Justice] (Member Request) Drawing of her on knees blowing and sucking off other Young Justice members.
Catwoman(Anthro) x Tygrus [B:TAS Tyger Tyger episode] (Member Request) Drawing of Catwoman being picked up by the large Tygrus and railed from behind by him while standing.
Andrea Beaumont [Batman Mask of the Phantasm] (Member Request) An explicit pin-up of Andrea sitting on the balcony seductively spreading her legs apart with her blouse open. The sun from the back is shinning through the shirt and contouring her body. Quite the pretty dawn. Scene based off this.