Results for The Big HALLOWEEN Poll of 2021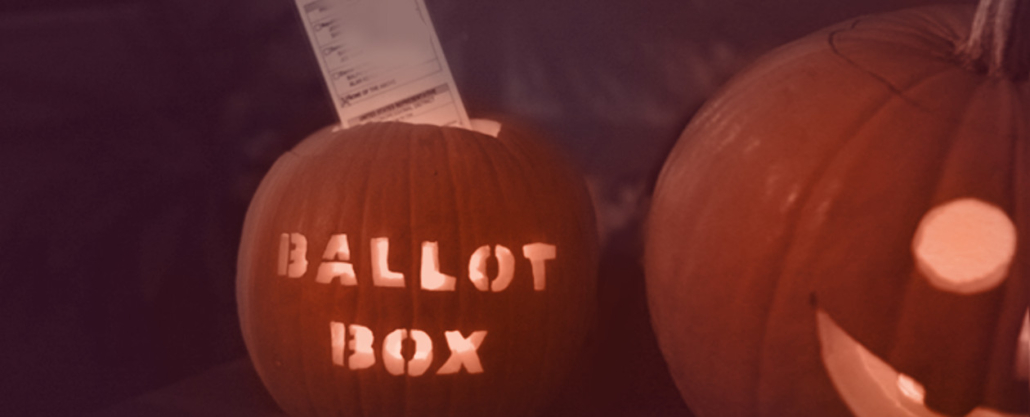 The Big Halloween Poll of 2021 has been locked in!
It was a very huge poll. So I'm going to be drawing all the top candidates that I can before the 31st of October!
The poll was conducted for and made with My Site Subscribers [Click here if you wish to become one!]
Here is the long list of results…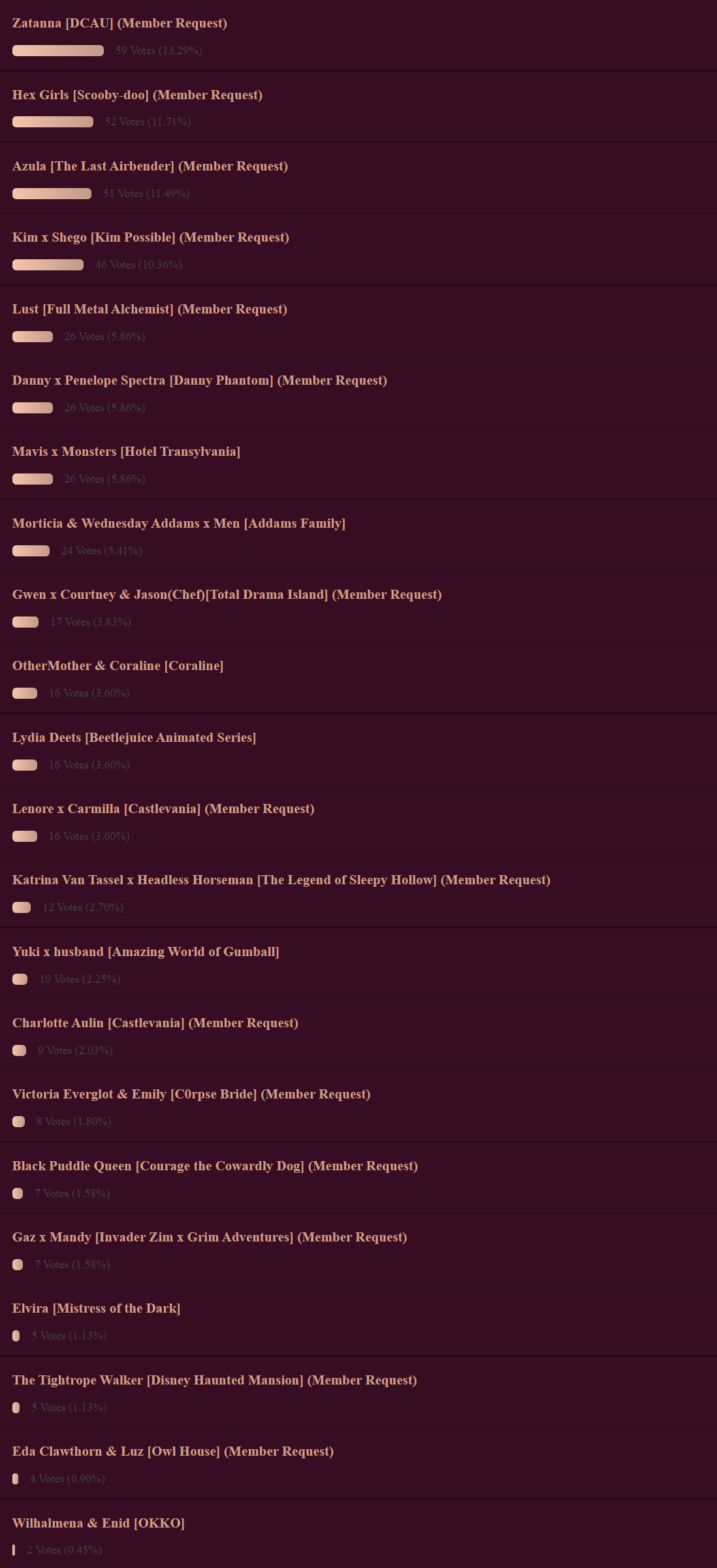 You can read more about what I planned for each candidate by using Ctrl+F to search up your candidate on the last half of the page.
I will have another similar poll for December and I'll call it The DCember Poll, because it will be filled by nothing, but DC characters (since Zatanna did get the 1st place).
——————————————————————————————————–
Morticia & Wednesday Addams x Men [Addams Family] Part 3 to my last year's Addams Family drawings. This time it's a drawing of both women on bed being railed by two men. Morticia and Wednesday are grasping onto each other from pleasure.
Elvira [Mistress of the Dark] A heavy shadow pinup of Elvira sitting nude (+ lingerie version) in a cozy coffin as she invites the viewer to join her. If this wins, I'll @TheRealElvira the finished SFW version.
Hex Girls [Scooby-doo] (Member Request) A lewd pinup of all 3 girls caressing, kissing, and licking each other in very revealing lingerie outfits which are going to be reminiscent of their original outfits.
Gaz & Mandy [Invader Zim & Grim Adventures] (Member Request) Pinup of both girls standing next to each other in very revealing witch themed lingerie and looking at each other in annoyance for being made to pose like this.
Kim x Shego [Kim Possible] (Member Request) A spicy pinup of both girls in Devil & Angel costumes where Shego is picking up and pressing Kim against a wall as Shego seductively tries to lick her neck.
Danny x Penelope Spectra [Danny Phantom] (Member Request) A Cel-Shaded sex scene of Danny Fenton railing Penelope Spectra on her office desk. Penelope's jacket is unbuttoned, and her large breasts are fully revealed as they bounce form Danny's thrusts.
Black Puddle Queen [Courage the Cowardly Dog] (Member Request) A pinup of Puddle Queen laying in her dark puddle with half of her body submerged with her large breasts un-robed, and wet from the water.
Lydia Deets [Beetlejuice Animated Series] A Part 2 sex scene to my previous year's Halloween Lydia pinup. This time Beetlejuice (in a sexier form) has been summoned and is riding out Lydia on his dick as both of them are levitating from the ground and she's trying to hold onto his chiseled chest.
Gwen x Courtney & Jason(Chef) [Total Drama Island] (Member Request) A Cel-Shaded lesbian sex scene where Gwen and Courtney are having sex with each other, but both of them are interrupted by Jason (actually Chef) breaking in from a wall and scaring the life out of them. Also, in the background there is going to be Chris sitting in a director's seat.
Yuki x husband [Amazing World of Gumball] A sex scene based on that short scene from Gumball's Halloween episode where Yuki was in Catwoman's costume sitting with her husband in a car. I just wish to make a drawing of her riding her husband's dick in the car with her chest fully exposed. Proportions will be based off my first Yuki pinup.
Katrina Van Tassel x Headless Horseman [The Legend of Sleepy Hollow] (Member Request) A sex scene of Headless Horseman railing Katrina from behind as he rips her corset revealing her big boobs.
The Tightrope Walker [Disney Haunted Mansion] (Member Request) A remake of the original panting by turning it into a fun pinup of her sitting on the rope with her butt facing the viewer. She would be dressed in a very revealing lingerie reminiscent of her dress.
OtherMother & Coraline [Coraline] A butt focused pinup from Coraline's POV of OtherMother as she in a sexy underwear is trying to get dressed. She asks Coraline to help her close her bra. In the background you can see a mirror reflecting Coroline's expression.
Victoria Everglot & Emily [C0rpse Bride] (Member Request) A pinup of both girls dressed in sexualized wedding dresses sitting on a bench with both their chests exposed. Emily is visibly insecure about her decaying body while Victoria also is slightly unnerved by her skeleton arm.
Lenore x Carmilla [Castlevania] (Member Request) A pinuppy lesbian scene of both girls laying nude in bed on top of each other as if they were both just in a make out session. Lenore will be laying on her back with a cute but hazed expression while Carmilla will be angerly looking at the viewer for interrupting them.
Mavis x Monsters [Hotel Transylvania] Part 3 of my Mavis drawings. In this one she will still be in a foursome with the same monsters, but this time it's going to be a below shot of her being spit-roasted.
Wilhamena & Enid [OKKO] A Cel-Shaded scene of both Enid and Wilhamena leaning over a bed beside each other and awaiting to get dicked down by Radicles and Bernard. Enid is visibly shy about the event, but Wilhamena is excited and is even spreading Enid's butt cheek.
Lust [Full Metal Alchemist] (Member Request) A POV drawing of lust giving the viewer a boobjob.
Eda Clawthorn & Luz [Owl House] (Member Request) A pinuppy drawing of both girls (almost nude) sitting close by a summoning circle as Eda activates it and tentacles start coming out. Eda (dressed in a topless lingerie) looks with a coy and knowing expression at Luz who is almost fully nude but covered in ritualistic symbols and is a bit confused and worried about what is going to happen.
Charlotte Aulin [Castlevania] (Member Request) A sex scene drawing of Charlotte getting banged from behind by a huge gargoyle as her clothing is being ripped apart.
Zatanna [DCAU] (Member Request) A lewd pinuppy drawing of a summoning gone wrong. It will be a scene of bunch of shadowy hands ripping apart her corset and clothing, revealing her nude body.
Azula [The Last Airbender] (Member Request) An Azula drawing with her re-imagined as a Succubus with wings and blue flames. The drawing itself will be of her riding and grinding her boobs on the viewer.